We were given a beautiful image to work from by a customer of ours and this always gives us a good challenge. No weapon can ever be exact, but we always have a good go at getting it as close as physically possible.
Getting the right size and is always about getting the right judgement and then you have to use your eyes to get the right shape to fit. For exact shapes to size we create vector graphics to print, but doing it by hand allows you to be that little bit more fluid. It also allows you to sort out some angles to make them a little safer and better constructed.
We almost always have a practice run on some card to get it just right before cutting.
| | |
| --- | --- |
| | |
| Here's the template we used, which was the basic shape of the head | Here the head has been cut and next to the pic we were sent. You can see small differences put there for |
After the head was cut and the staff had been batted up, we then glued them together giving the weapon its basic shape. Then it was all about drawing lines and shapes, cutting, sanding and burning to bring it to life and get the details on there.
| | | |
| --- | --- | --- |
| | | |
| The artwork begins with cutting, burning, sanding and melting | The finished head of the staff i the grey. A really lovely piece. | Not so often seen: The end of the staff detail. |
The teeth were connected in the middle to create further structure.
Latexing created some of the real magic! This nasty looking thing had high and lowlights added, colours, hand colouring and loads of grrr.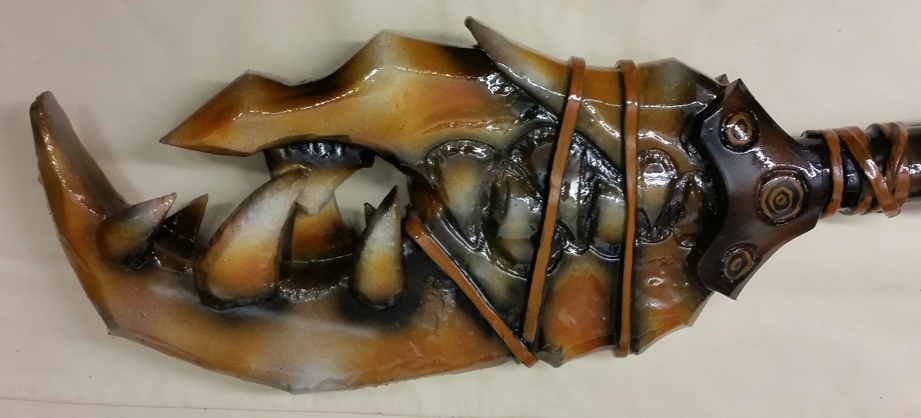 Latexed detail closeup


Finished piece (click on pic to enlarge)

This was a great project to be involved in and we loved every second of it.
LARP is traditionally of a fantasy genre. But recently sci-fi / sci-fantasy systems have reared their heads and people simply can't get enough of tech, no matter how it's powered!
An obvious move towards gun fighting was made, but how could this be done? Fantasy systems rely on bows, but Sci-Fi players would expect to see guns!
Nerf had part of the answer.
Various videos have hit Facebook with people kicking the sweet b'jesus out of each other in what can only be described as 'Nerf Wars'. These are gun fights, but ones you can live though! Surely LARP fanatics could really do something with this tech?
Blastersmiths are a company that replace parts of the interior of your blasters so they kick out more power and have a harder, more noticeable hit. The velocity of these shots are controlled and monitored to keep them at a standard throughout the UK. The extra strength behind the shots was part of the answer; the other was getting a decent paint job from UK Nerf War to make it look the part! So modified Nerf became the accepted and widespread form of fire power for the sci-fi side of LARP.
After spending some time at events with Blastersmiths and getting to know them well, we got the challenge of making Blastersmiths their shield logo as an actual shield! What a mega cool project!
| | | |
| --- | --- | --- |
| | | |
| This is the shield logo that Blastersmiths wanted us to build as a real shield. | We began by plugging their shield into our computer and working out the scale measurements. From there we were then able to take the measurements and mark up a template for cutting. | We then cut out some of the all important details. |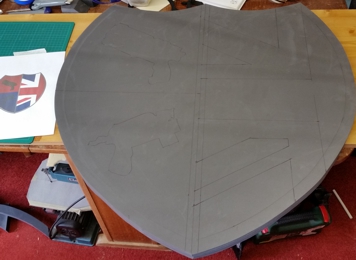 We used the templates and measurements to mark out the shape of the
shield, cut it and marked out the 1:1 scale design on the foam.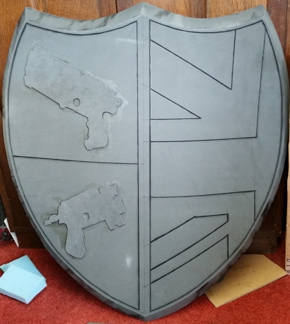 After some jiggery pokery and a little Hack and Slash magic, we cut the grooves and applied the lines. The result being one massively cool shield! We heat treated it for the lovely curve and added the gripping to the rear.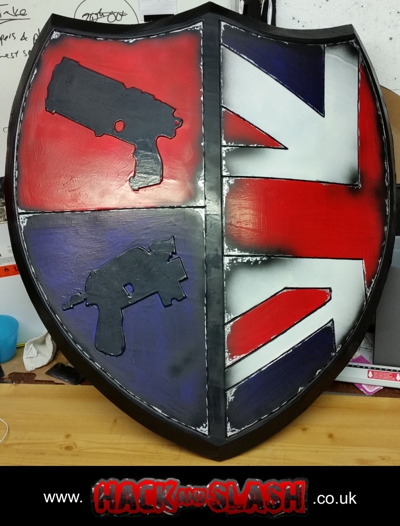 Blastersmiths asked us to apply a small amount of weathering / chipworky style to it, but allowed us to have creative licence in what we did. They knew that allowing us that extra freedom would get the best results. So here it is! The finished shield!
It was a fantastic project and we really were excited about posting it off to them - just in time for EXPO!
Thank you to all of the massively cool team at Blastersmiths!