We were given a beautiful image to work from by a customer of ours and this always gives us a good challenge. No weapon can ever be exact, but we always have a good go at getting it as close as physically possible.
Getting the right size and is always about getting the right judgement and then you have to use your eyes to get the right shape to fit. For exact shapes to size we create vector graphics to print, but doing it by hand allows you to be that little bit more fluid. It also allows you to sort out some angles to make them a little safer and better constructed.
We almost always have a practice run on some card to get it just right before cutting.
| | |
| --- | --- |
| | |
| Here's the template we used, which was the basic shape of the head | Here the head has been cut and next to the pic we were sent. You can see small differences put there for |
After the head was cut and the staff had been batted up, we then glued them together giving the weapon its basic shape. Then it was all about drawing lines and shapes, cutting, sanding and burning to bring it to life and get the details on there.
| | | |
| --- | --- | --- |
| | | |
| The artwork begins with cutting, burning, sanding and melting | The finished head of the staff i the grey. A really lovely piece. | Not so often seen: The end of the staff detail. |
The teeth were connected in the middle to create further structure.
Latexing created some of the real magic! This nasty looking thing had high and lowlights added, colours, hand colouring and loads of grrr.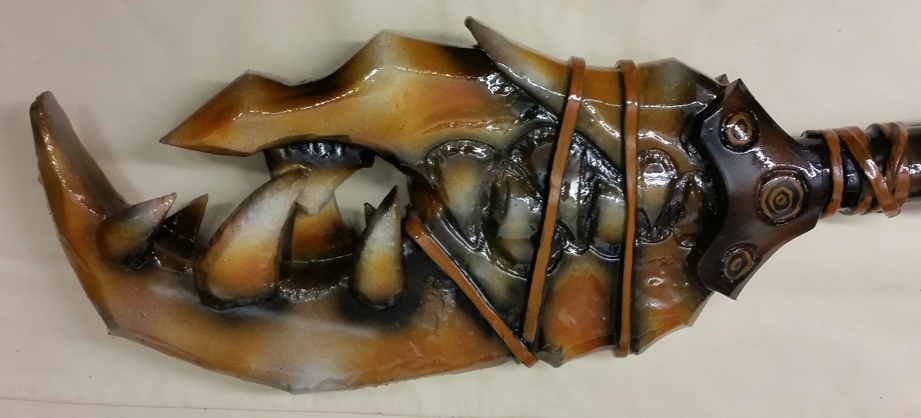 Latexed detail closeup


Finished piece (click on pic to enlarge)

This was a great project to be involved in and we loved every second of it.