LARP is traditionally of a fantasy genre. But recently sci-fi / sci-fantasy systems have reared their heads and people simply can't get enough of tech, no matter how it's powered!
An obvious move towards gun fighting was made, but how could this be done? Fantasy systems rely on bows, but Sci-Fi players would expect to see guns!
Nerf had part of the answer.
Various videos have hit Facebook with people kicking the sweet b'jesus out of each other in what can only be described as 'Nerf Wars'. These are gun fights, but ones you can live though! Surely LARP fanatics could really do something with this tech?
Blastersmiths are a company that replace parts of the interior of your blasters so they kick out more power and have a harder, more noticeable hit. The velocity of these shots are controlled and monitored to keep them at a standard throughout the UK. The extra strength behind the shots was part of the answer; the other was getting a decent paint job from UK Nerf War to make it look the part! So modified Nerf became the accepted and widespread form of fire power for the sci-fi side of LARP.
After spending some time at events with Blastersmiths and getting to know them well, we got the challenge of making Blastersmiths their shield logo as an actual shield! What a mega cool project!
| | | |
| --- | --- | --- |
| | | |
| This is the shield logo that Blastersmiths wanted us to build as a real shield. | We began by plugging their shield into our computer and working out the scale measurements. From there we were then able to take the measurements and mark up a template for cutting. | We then cut out some of the all important details. |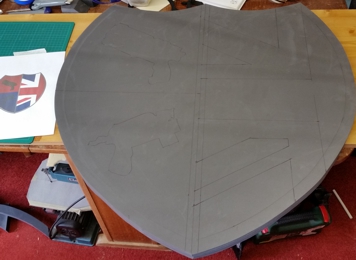 We used the templates and measurements to mark out the shape of the
shield, cut it and marked out the 1:1 scale design on the foam.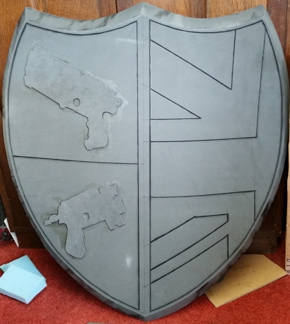 After some jiggery pokery and a little Hack and Slash magic, we cut the grooves and applied the lines. The result being one massively cool shield! We heat treated it for the lovely curve and added the gripping to the rear.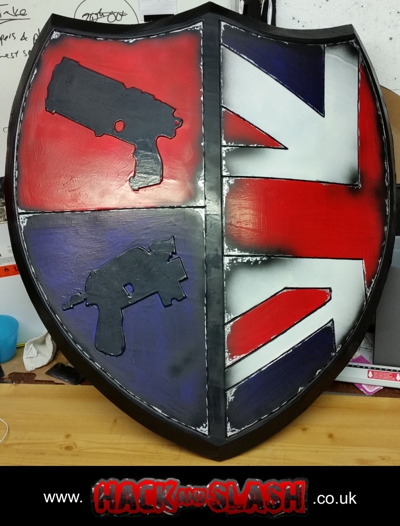 Blastersmiths asked us to apply a small amount of weathering / chipworky style to it, but allowed us to have creative licence in what we did. They knew that allowing us that extra freedom would get the best results. So here it is! The finished shield!
It was a fantastic project and we really were excited about posting it off to them - just in time for EXPO!
Thank you to all of the massively cool team at Blastersmiths!