Why have a weapon that 'could' look like someone else's?
Why not have a weapon that has been specifically made for you?


The Hack and Slash team have years of experience in making special design, high fantasy weapons. Why not let us make yours?
By providing us with as much visual and written information as you can, you will enable our qualified artists to create your weapon as close to the vision in your mind's eye as possible.

To send us an inquiry is easy!

Either send us your ideas via email: hackandslashweapons@outlook.com

Or find us on Facebook by clicking here and send us a message!

If you want to draw your own, but not sure how to go about it, you can see a
weapon design by clicking here.

Sketch

Constructed Design

Finished Piece!
Sketch

Constructed Design

Finished Piece!
MADE FROM A COMPUTER IMAGE

The Whirlwind Axe design was made from a screen grab from the game, World of Warcraft, which was sent in to us. More research followed and we came up with some good results. A nice weapon for any COSPLAYer or World of Warcraft fan! - Although we know this weapon was actually used to beat people with in LARP..
EXAMPLE DRAWINGS OF WEAPONS
Drawings you send in don't have to be very detailed, so long as the basic shapes are there, which we can work from. You can then tell us the colours you want and we can make it happen! Below are some examples of our sketches. Whilst the shading is quite nice, it's the shapes we're interested in. These are some good examples of the shapes of weapons.




NO PROJECT TOO SMALL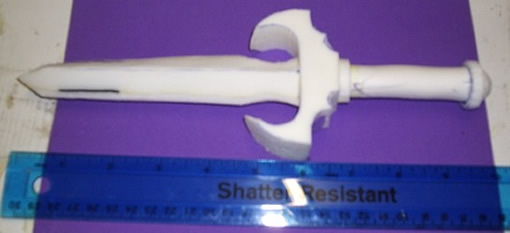 If you want us to build a weapon that has very specific measurements, we can do this for you! All you need to do is send us the details and we can work to the dimensions required!
This is an example of a very small, cored dagger that we were asked to do for a player in the group, 'Knights Mortis'.
QUALITY IS IMPORTANT TO US

All weapons made by Hack and Slash pass an in-house quality check before being dispatched to the customer.
We use a variety of specialized detailing, including freehand painting, vinyl graphics, airbrushing techniques, embossing and engraving. So whether it's a bright elven sword, or a metallic rapier with minimal shading or a really rusty dagger, we will make sure it meets the standard YOU are looking for and wont send it out until we've got it just right.